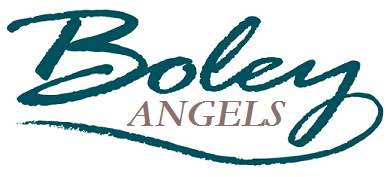 History
The Boley Angels were founded by long-time Board Member and one of Boley Centers' founders, Mary Koenig, in 1984 to promote community awareness and support of Boley's rehabilitation programs. Over the years, the Angels have been involved in various fundraising events for Boley, including a fashion show luncheon, an annual membership tea and an annual Christmas brunch. On an annual basis the Angels now host three events:
Low Country Shrimp Boil – April 6, 2019
Hot Jazz & Cool Members Open House in the fall
Jingle & Mingle Holiday Brunch – December 3, 2016 at the Club at Treasure Island
During fiscal year 17/18, the Boley Angels raised over $21,000.00.  These funds helped the to contribute to Boley Centers in the following ways:
 The Angels provided quarterly disbursements for the agency's food pantry which helps individuals and families who are being served through Boley's homeless supported housing program.
The Angels contributed funds to help with unmet dental needs of Boley's clients.

The Angels

contributed funds toward the purchase of a 20′ x 20′ tent for agency fundraising events.
2018/2019 Officers
President – Teresa Wittstruck
Vice-President – Noreen Hodges
Secretary – Carol Bonanno
Treasurer – Roseanna Costa
Original Founders
*Rosemary Barnes
Virginia Battaglia
Mary Bond*
Jackie Buenzli*
Marge Fast*
Mildred Ferris
Opal Jette*
Louise Johnson*
Mary Koenig*
Kathryn McNulty*
Helena Miller*
Vini Minafra*

Gerry Nickels*
Annamarie Pityo*
Betty Polfer*
Maybelle Smith*
Virginia Tucker*
Doris Wikkerink*
* deceased